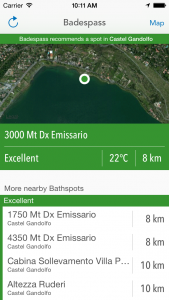 We had 9 days of fun at ESA's App Camp. Held at ESA's "ESRIN" facilities in Frascati, Italy, near Rome, Hannes Moser and me had a great experience in a team joined by Holger Frank and Paul Steinhilber from Germany.
Together we developed an app called "Badespass", which helps users to find bathing spots nearby (or near their next holiday location) and teaches them about environmental issues related to water quality. It also tries to leverage crowd-sourcing and peer pressure, to push for change in regions with problems in that regard.
The app makes use of the European Environment Agency's (EEA) extensive list of tested bathing spots (over 30.000 all over Europe) and the real-time water quality and surface temperature provided by ESA's Sentinel-3 satellites which is due for launch in 2015. These are part of the Copernicus earth observation program, replacing the died Envisat.
Read ESA's press release about it!